Summer time is finally here, that ole' Haynie Boat is back in Gear!!
Call for Availability!
214-538-1414





​Team CC Striper with a 1st Place Hybrid and a 2nd Place Sandbass placement in the Memorial Day Lake Lewisville Sandbass Tourney!!
---
Chad Cole
214-538-1414
Chad@CoachColefishingguide.com
If browsing with a mobile device, please click the menu button on the top left hand of the home screen to find all the additional information!!!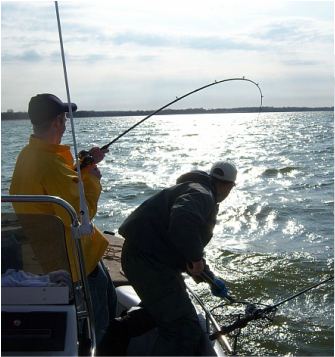 Thank you for visiting my Website! It is my hope that my Guide Service can be a part of your next fishing adventure!

My name is Chad Cole and I operate Coach Cole's Guide Service. I am a Fully Licensed and Insured Professional Fishing Guide.

I am committed to excellence on the lake! Your satisfaction and enjoyment is my # 1 priority. I am not only committed to catching fish, but also informing my customers to current lake conditions, why the fish are in a particular pattern, what works best during a certain time of year, etc. Catching a Limit of fish should be an expectation of my guide service, just don't let it be the only one!
---


I enjoy fishing with first timer's and kids!! I have 2 boys that are becoming good little fishermen, or at least get really excited everytime we go!! It is very rewarding to see a them reel in a fish, or just seeing the enjoyment they get out of playing with the shad in the bait tank, it makes the trip worthwhile!

Train a child up in the way it should go, and when he is old, he will not turn from it. (Proverbs 22:6.)

I for one don't see any better way to spend a morning with your children than catching a mess of whitebass, reeling in a monster hybrid, or just watching them throw little bait fish on one another. Bring them fishing and we'll make memories that last a lifetime!!

Highlights of Coach Cole's Guide Service:

- I offer Morning and Afternoon Trips
- We Depart from the most convenient and nearest marina
- Fishing Trips are Fully Customizable.
- Jug-line fishing is an option in additon to rod and reel fishing.
- Bait is Caught prior to trip so you can spend your time Fishing!
- Fish Cleaned and bagged for the ride home.
- Video and Pictures of the Fishing trip taken and sent to you the same day
CPR - CATCH, PHOTO, RELEASE
Lake Lewisville is one of the premier hybrid lakes in the state of Texas, it is our job individually, and collectively to protect this awesome fishery! I'm an advocate of CPR when it comes to the hybrid population. It is certainly within your legal right as a paying customer to keep every legal hybrid caught, up to 5 per person. With that having been said, taking home a few hybrids and a mess of white bass will equal a great payoff, plenty of meat for an awesome fish fry!!!
INJURY DISCLAIMER

Coach Cole's Guide Services is a licensed and professional guide service.
Fishing charters are not without inherent risk.

I will spare no effort to assure you a safe trip, with that having said, I cannot assume responsibility for an injury during a guided fishing trip.